Every word counts, and words must be followed by action. Especially when the matter in question is the most important issue of our times: Global warming and the severe climate challenges that both we and our descendants will have to live with.
We believe that solid data and transparency on emissions, combined with high ambitions for businesses' green transition, can contribute to a future where the globe remains habitable.
At LEAD, we want to contribute as much as we can. Our footprint is not huge, but we too can change habits and make new decisions that will reduce our carbon footprint. Therefore, we have had our entire business analysed and calculated exactly the amount of CO2 we emit.
Overview of LEAD's carbon emissions

On the basis of the detailed insight into our carbon accounting, we have developed our sustainability policy, including realistic objectives for reduction in 2020 and 2022 plus a wide range of initiatives to reduce emissions and to offset what we cannot reduce.
LEAD's reduction target for 2020 and 2022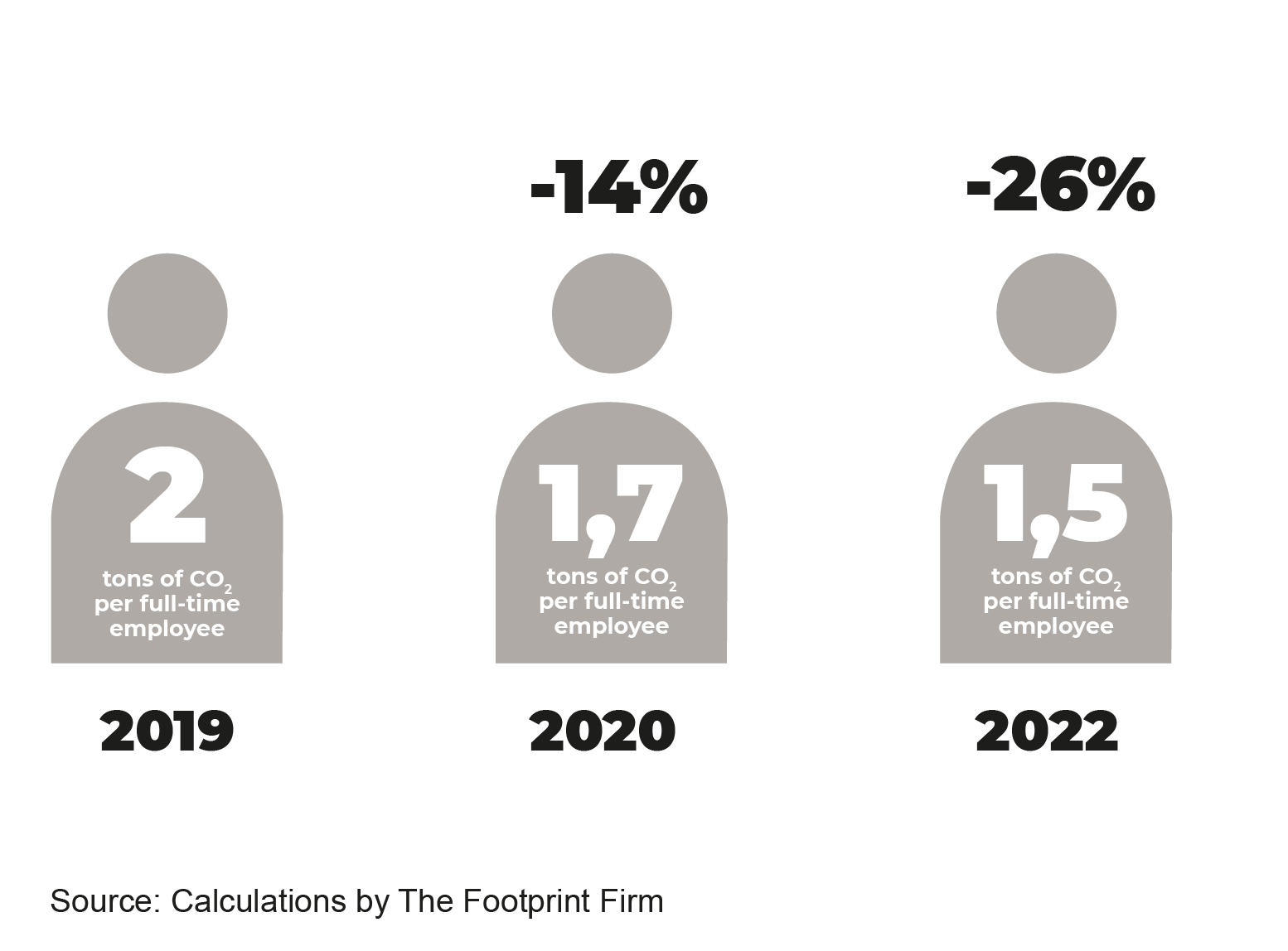 For example, we want to convert 90% of our car-transportation to electric cars and travel by train and public transportation. Also we will avoid unnecessary air travel. Our lunch is now 100% vegetarian, and we continuously optimize our IT-operations (software and hardware) into more sustainable solutions. Purchasing and office operations are constantly being reshaped and improved, too.
Visualisation of LEAD's sustainability policy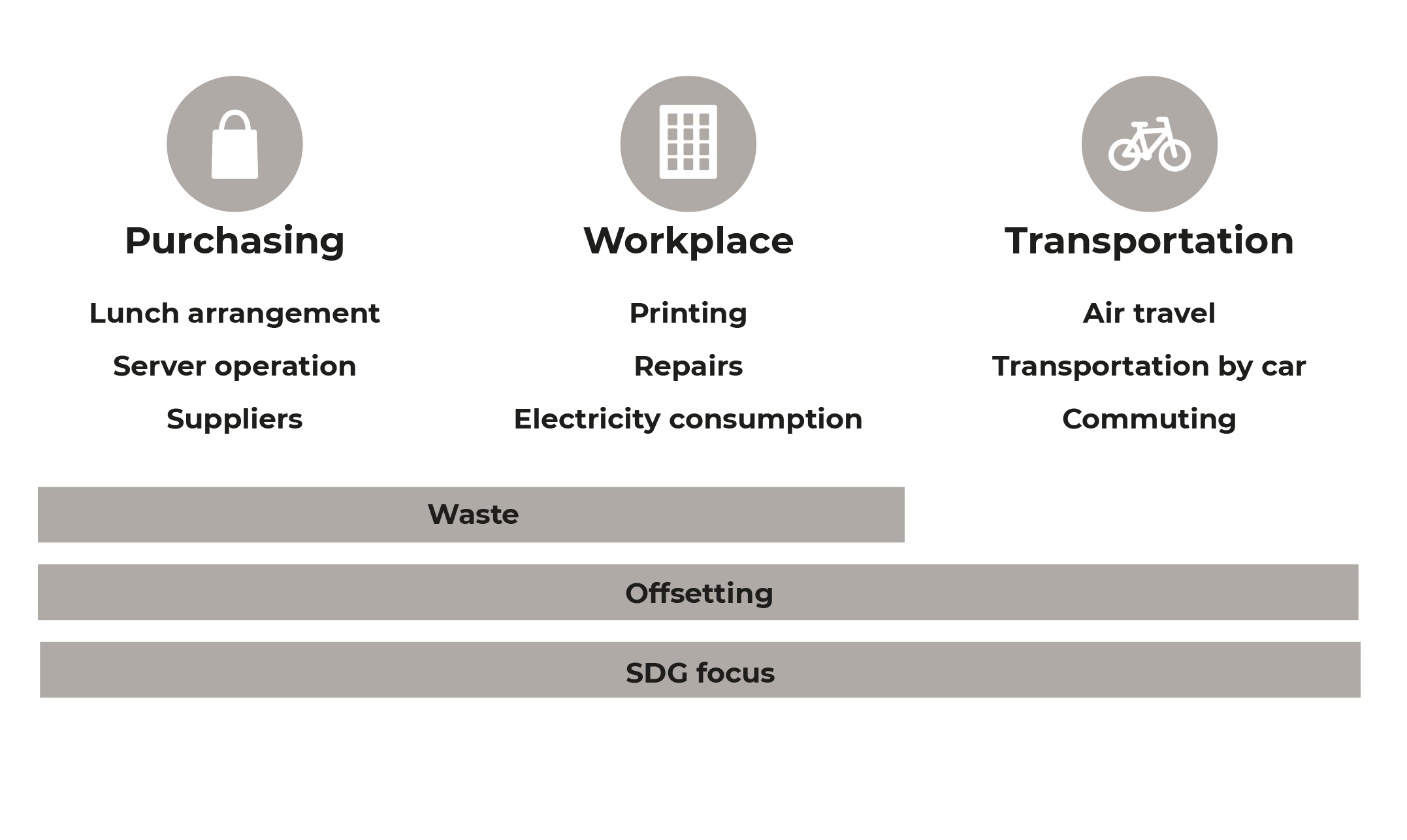 We will be compensating for the carbon emissions that we cannot reduce through an internal tax on CO2. We have imposed the carbon tax on ourselves because we - like the IMF and the UN - believe that the market price of CO2 is too low, and therefore ordinary offsetting is insufficient. For that reason, we follow the recognised international standards and guidelines for corporate CO2 reduction set out by the IMF and the UN.
The carbon tax, that we have imposed on ourselves we use to co-finance CO2 storage projects that not only limit future emissions, but actually reduce the current amount of CO2 in the atmosphere. Specifically we have chosen in 2020 to invest in the Finnish company PURO, that specialise in producing carbon negative products for e.g. building supplies.
Sustainability is more than climate. Apart from the climate action, SDG13, we will be focusing on the objectives around gender equality, SDG5, and responsible consumption and production, SDG12. This will be done through working with our clients - for whom these goals play a big part, too - and, overall, through our own effort and in cooperation with our talented colleagues and business partners.
We focus on these Sustainable Development Goals

The three scopes for carbon emissions
Please see here an overview of the three official scopes from Greenhouse Gas Protocol that define the CO2 emission of a company. LEAD emits within the areas marked out in red: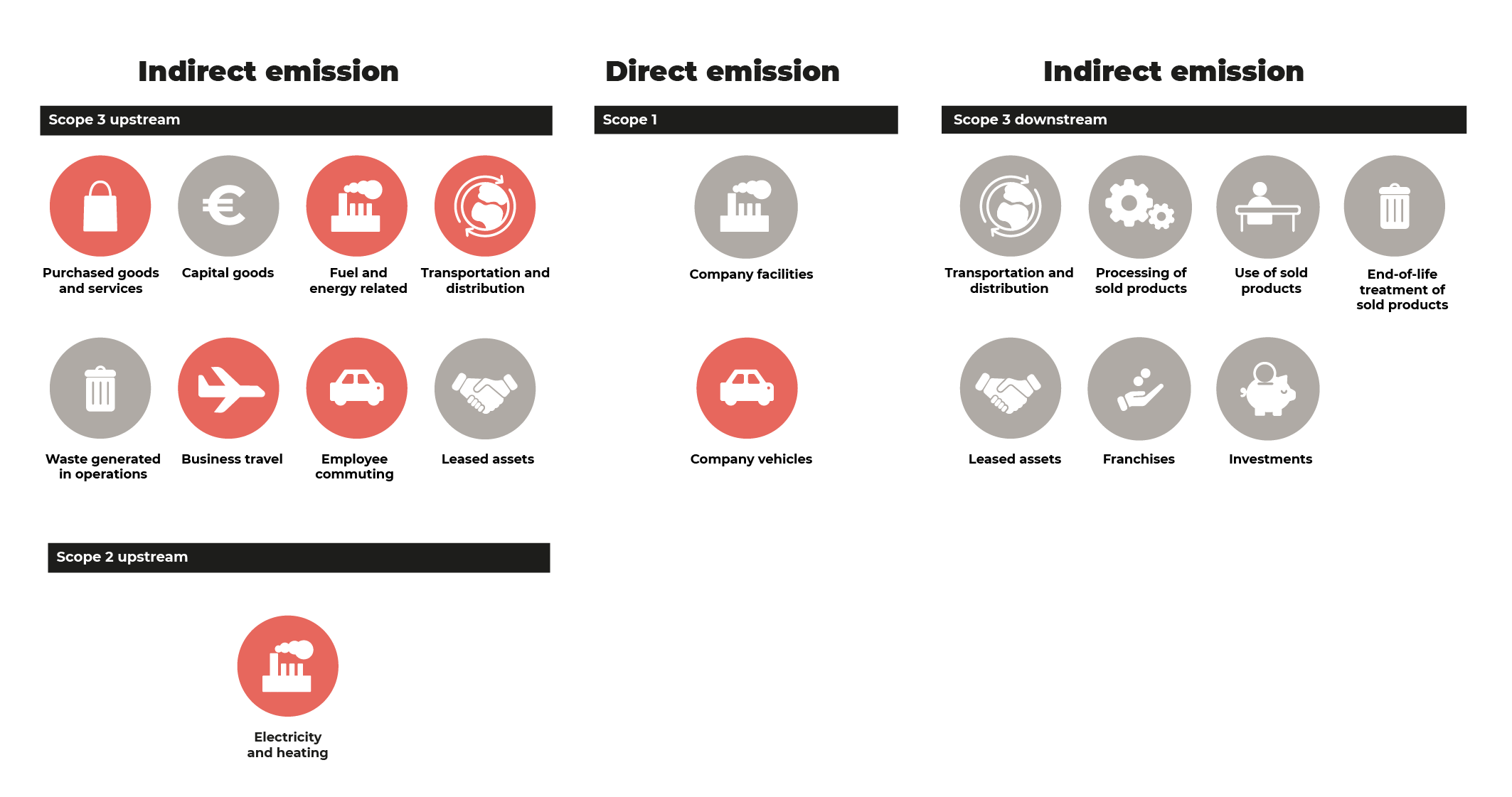 The Footprint Firm has helped us with the analysis of our CO2 emissions and with the development of an ambitious and realistic strategy. We cooperate with The Footprint Firm in solving similar tasks for our clients. Are you interested in knowing more, please reach out to Partner Barbara Saitta Bregendel.