Sustainability at Lead Agency
Every word counts, and words must be followed by action. Especially when it comes to the biggest and most global challenge we face today: Global warming and the serious climate changes that our descendants and we will have to live with.
We believe that reliable data and transparent carbon accounting, combined with high ambitions for the company's green transition, will help pave the way to a future where our planet remains habitable.
At Lead Agency, we want to help make the problem a little smaller. Our footprint is not big, but we too can change habits and make new decisions that reduce our carbon footprint, which is why we have analysed our entire business and calculated precisely how much CO2 we emit. The Footprint Firm has helped us analyse our carbon footprint and develop an ambitious and realistic strategy.
Overview of Lead Agency's CO2 emissions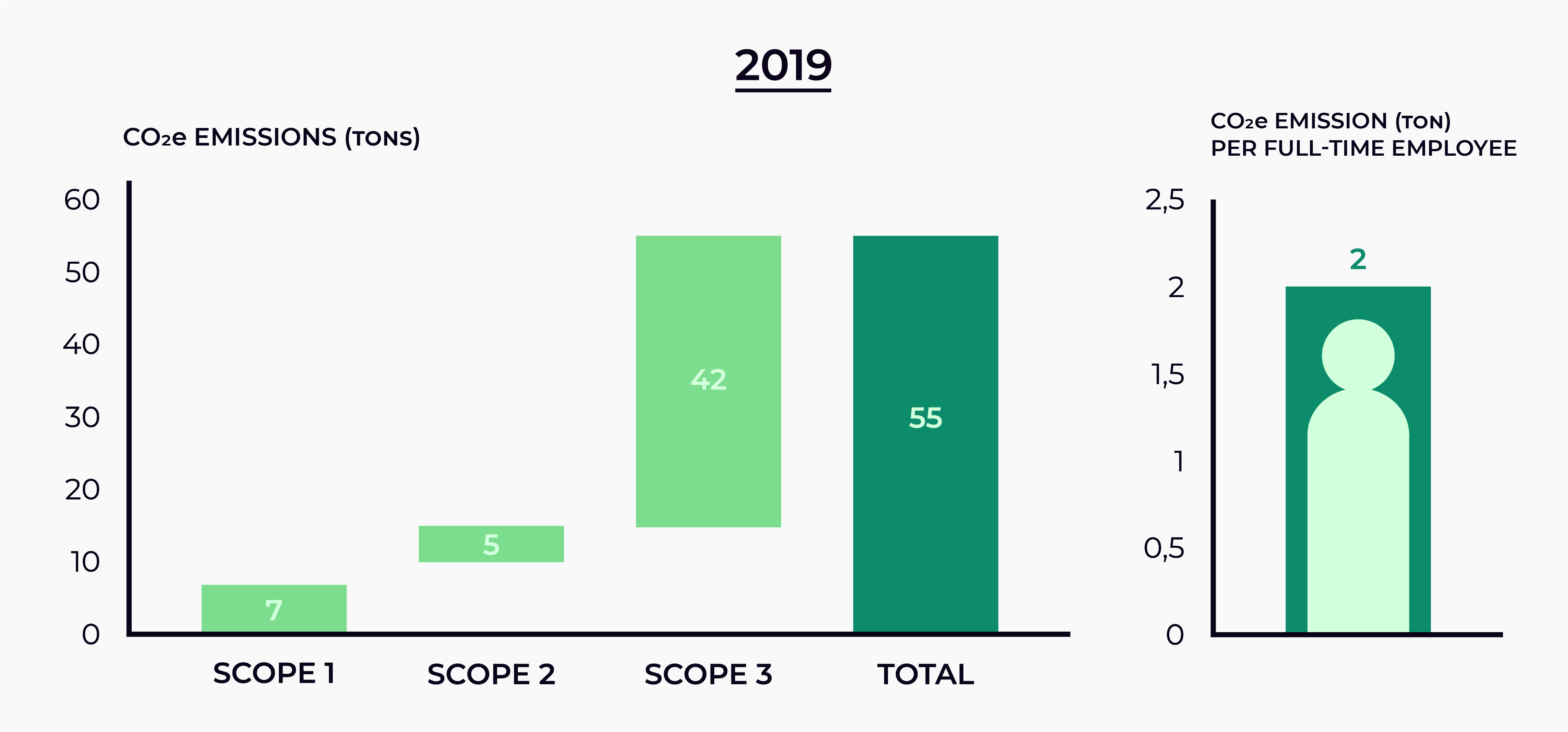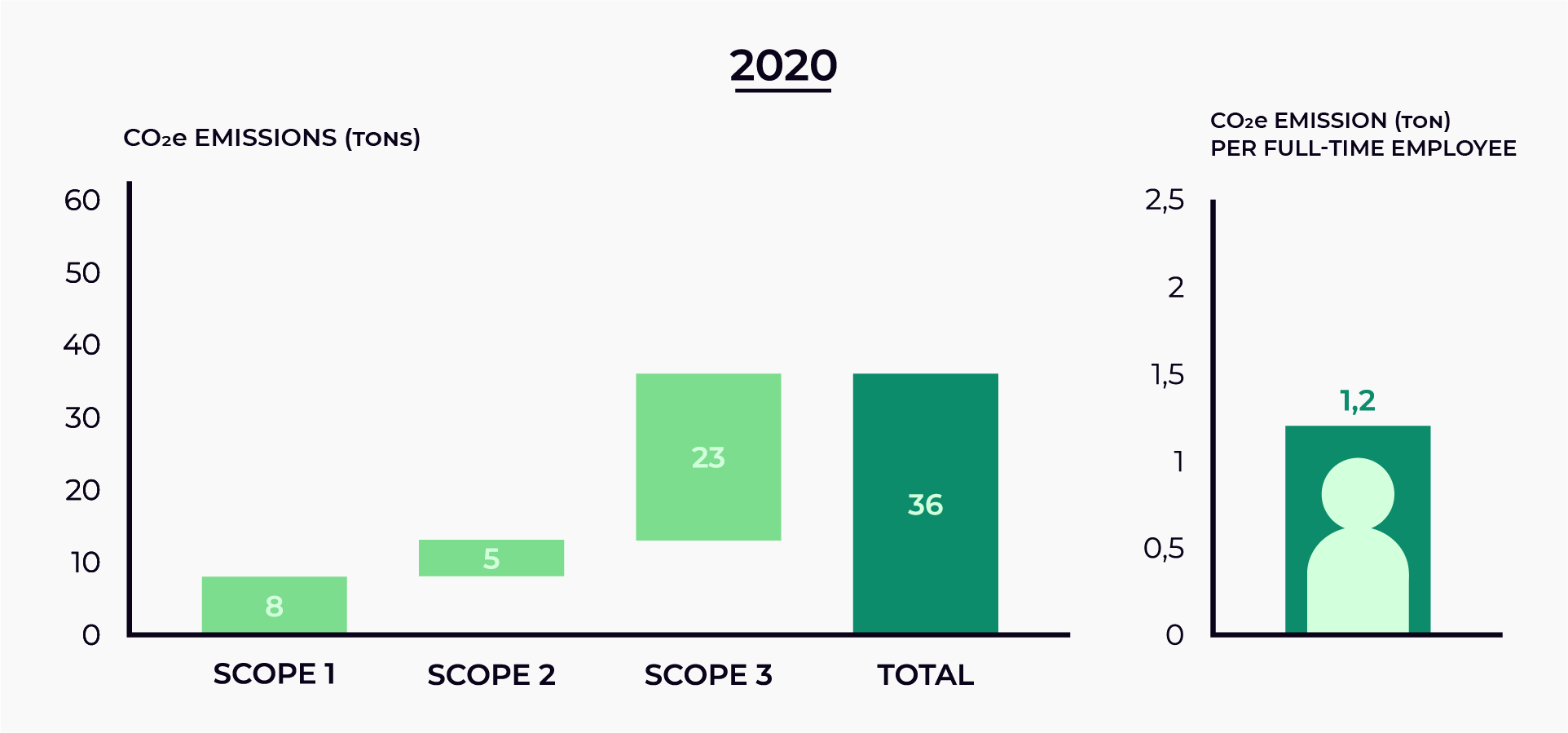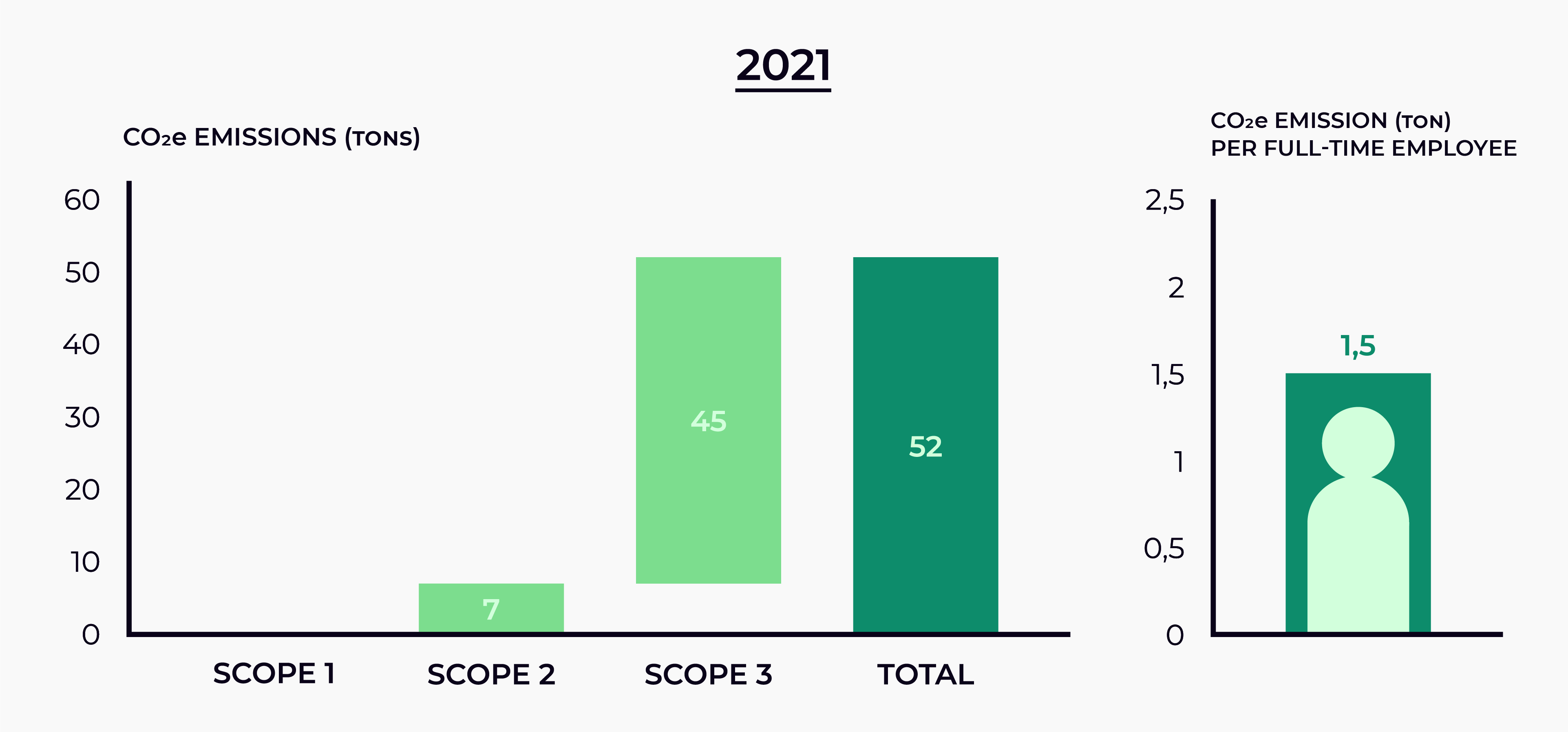 Source: calculations by The Footprint Firm
Lead Agency's reduction targets for 2020 and 2022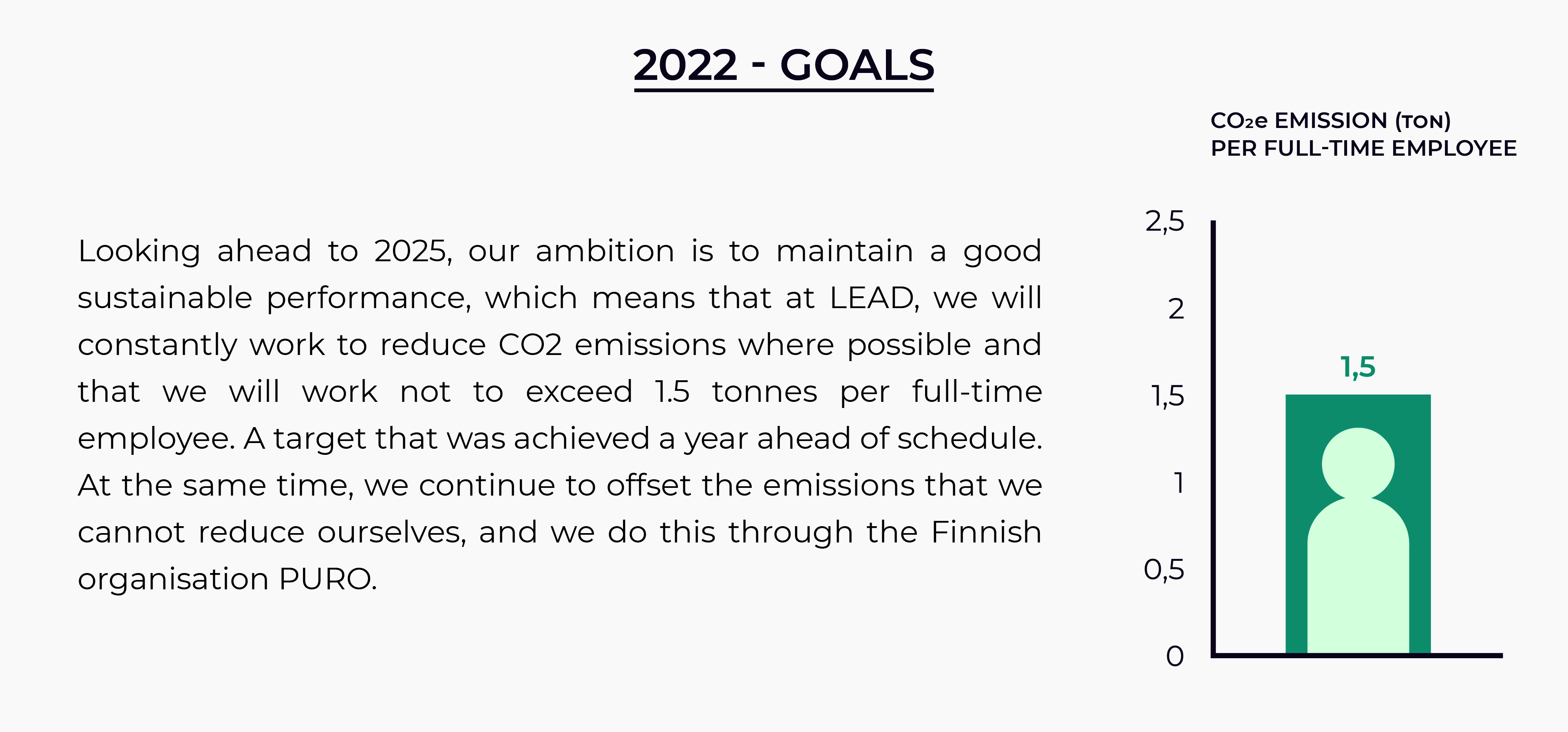 We have switched 90% of our vehicle use to electric vehicles and public transport, avoiding unnecessary air travel. We eat 100% vegetarian food for lunch. We continuously convert large parts of our IT operations (software and hardware) to more sustainable solutions and continuously convert and improve procurement and office operations.
Lead Agency's sustainability policy visualised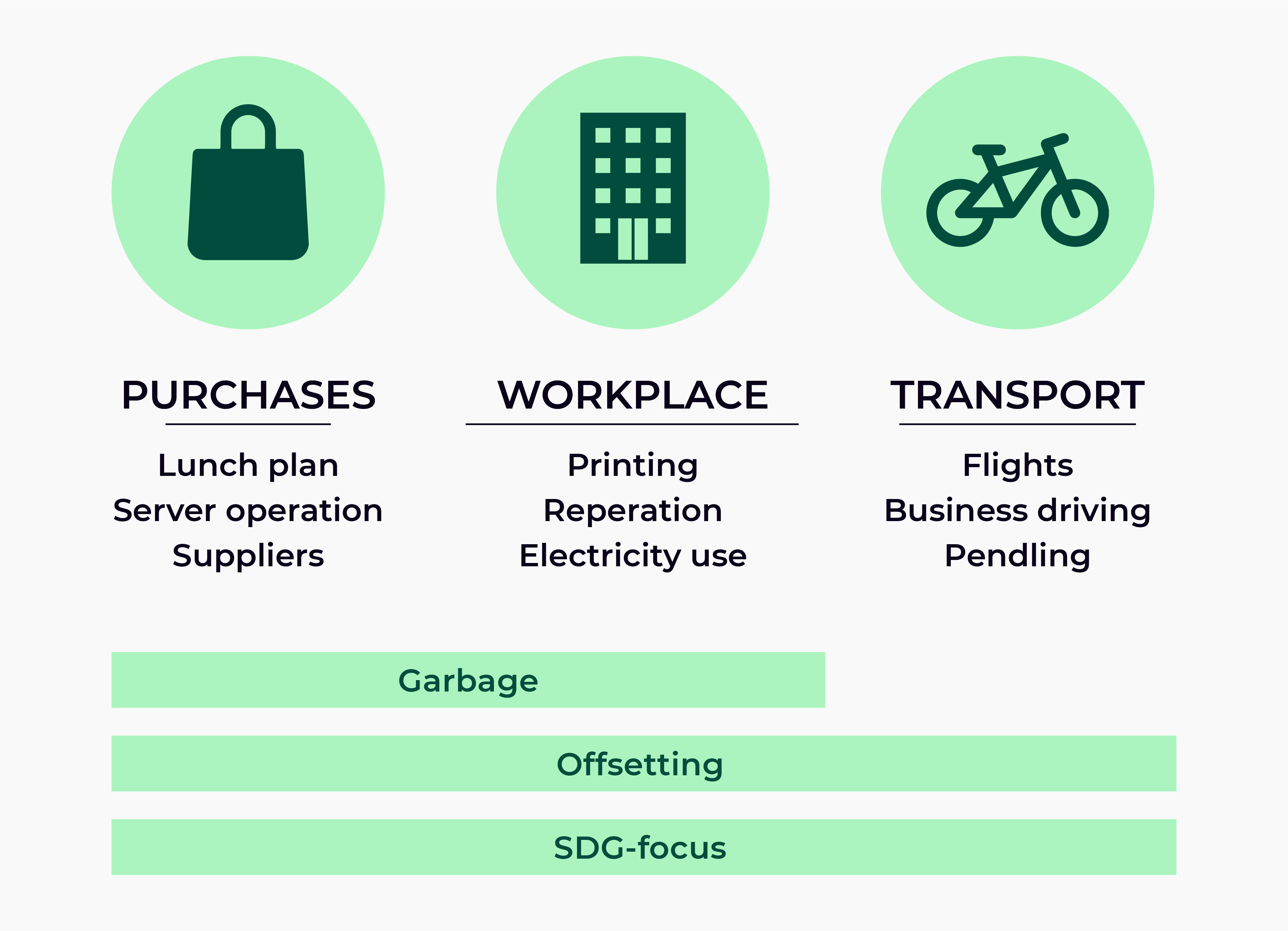 Based on the detailed insight into our carbon footprint, we have developed a Sustainability Policy for Lead Agency with realistic reduction targets and a wide range of initiatives to get us there.
The CO2 emissions we cannot reduce we compensate for through an internal tax on CO2. We have created the internal tax because - like the IMF and the UN - we believe that the market price of CO2 is too low and ordinary offsetting is insufficient. Therefore, we follow the IMF and UN recognised international standards and guidelines for the company's CO2 reduction.
The CO2 tax we impose on ourselves goes to co-finance carbon storage projects that not only limit future emissions but actually reduce the amount of CO2 currently in the atmosphere. Specifically, we have chosen to invest in PURO, a Finnish organisation specialising in carbon-negative products that absorb more CO2 than they produce, thus ensuring a net reduction in CO2 levels. By 2021, our investments in PURO will have removed 200 tonnes of CO2 from the atmosphere.
The Sustainable Development Goals on which we focus
Sustainability is more than the climate. In addition to climate action, SDG13, we will focus on gender equality, SDG5, and responsible consumption and production, SDG12. We can do this through our work with our many clients, for whom these goals also play a major role, and we can do this through our own efforts and in collaboration with our talented colleagues and partners.

The Footprint Firm has helped us analyse our carbon footprint and develop an ambitious and realistic strategy. We work with The Footprint Firm to solve similar problems for our clients. If you are interested in learning more, please contact partner Barbara Saitta Bregendal.